Monday marked 235 years of America's independence from Britain. Many Americans celebrate this federal holiday with barbeques and firecrackers. I didn't really partake in the celebrations this year or celebrate with firecrackers
per se
.
However, there are a couple new people I crossed paths with this 4th of July. I recently met a teenager and the first word that comes to mind when attempting to describe her is firecracker.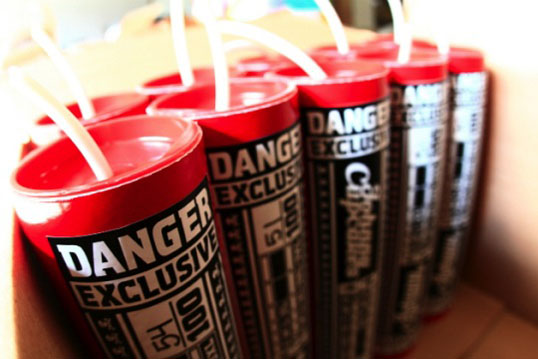 What do you think of when you hear the word FIRECRACKER? Danger, Explosive, Bright, Shining, Appropriately Loud?
By firecracker, I mean the blaze on her heart is visible in her actions and audible in her prayers and the way she speaks at a mere 16 years of life. She is on fire for the LORD. She is a danger sign to any plan of the enemy as she stands in the gap, interceding over several injustices.
Seeing young people so grounded and unshaken in their faith and truly on fire for the LORD is so beautiful to me. What a firm foundation!
Back in my day, we thought "
Meet Me at the Flagpole
" was something, and at the time and place, it might very well have been. Yet I've heard testimonies of revivals going on around the same time at other locations and I can't help but to think, "
what was I doing? I could've been doing a lot more.
" In just seeing what they are capable of doing now, as teenagers and in their early twenties, I can only imagine what type of exploits they will be doing in 5 or 10 years.
I was thinking of the song
Shine Jesus Shine.
I don't recall the first place I heard and learned the song. Moreover, while singing, I don't believe I grasped the meaning of the words or really understood what I was asking of the LORD.
Shine Jesus shine
Fill this land with the Father's glory
Blaze, Spirit blaze,
Set our hearts on fire
Flow, river flow
Flood the nations with grace and mercy
Send forth Your word
Lord and let there be light.
Somewhere after learning the words, the singing has the tendency to become habitual and part of the normal order of our Christian gatherings; service, fellowship, youth group and the likes.
Although we may not fully process the meaning, 100% of the time, at the young ages that we sing songs such as these, I believe it still counts for something. I now believe they were and still are prayers to the Lord. And at whatever time the LORD chooses, He will turn those worship lyrics to answered prayers for every child who sings it.
I want the upcoming generation to have awesome testimonies of revivals in their high schools and on their college campuses. I want them to look comparatively upon the state of high schools and college campuses back then and even now and completely shake things up.
As a duty to this upcoming generation, I pray that every child I have a relationship with would be characterized as a firecracker. I want the Spirit to blaze, setting their hearts on fire at young ages. This is very important to me especially for children raised Christian. It's dangerously easy to neglect spiritual growth, over the years, under the guise of religion, masking the dangers of repetition and stagnancy. Meanwhile, one would fail to realize that their spiritual entrée for several years was just various forms of Milk.
Come fan the flame!